Join the Fire & Ice team for our Annual Client Appreciation & Holiday Preview Party on Thursday, July 12th from 6pm-9pm. 
Come and enjoy a night full of fun and special treatment. We are rolling out the red carpet just for you! 
Come and be treated like the super important, special and appreciated client that you are. 
You deserve a night out to feel adored, so come join us! 
If you are planning your holiday parties and events, do not stress.
Leave your Holiday Party Planning worries at the door, we've got you covered!
Awaken your spirt as you discover Miami's Ice Bar and experimental cocktail lounge in heart of Miami Beach. Rated Miami's "Most Unique Venue", Fire & Ice is Miami's most sought after Holiday Party Venue boasting a one-of-a-kind experience and on July 12th you get to experience it all - Enjoy complimentary cocktails, light bites, and winter in Miami!
What to expect? Enjoy 2 complimentary cocktails, light bites, a tour of the venue, including entry to the ice bar with use of our faux fur coat, gloves, and more surprises!
When? Thursday, July 12th, 6pm-9pm
Where? Drinkhouse Fire and Ice is South Beach's only ice bar and fire lounge! This hot/cold experience features a chilly ice bar with ice caverns & a toasty fire lounge. Located at 1672 Collins Ave, Miami Beach FL 33139, between Lincoln Road & 17th! 
Parking? There are plenty of parking options within 5 minutes of our venue including public lots. Click here for an extensive list. For the most convenient option, please park in the private valet parking lot with the art mural that is located directly behind our venue on James Ave. Please note the private lot is not owned by Fire & Ice and prices vary.
FAQ:
Why should I book my holiday party in July? Fire & Ice is Miami's premier holiday party venue and often books up before fall. Booking in July ensures you get everything exactly the way you want it.
What types of Holiday Parties can you have? We offer a wide array of services that are 100% customizable depending on your preferences and needs. We can accommodate parties from 20 to 350+ people and focus on both corporate and private parties.
Do you do themed holiday parties and events? Yes! We can create anything you can imagine. Ask about our custom cocktails, award winning performers and entertainers!
I'm really busy and don't have a lot of time to plan, can you help?Absolutely. Our events team will do all the heavy lifting, just tell us what you want.
Can you help with transportation and other speciality needs if necessary? We offer full service, 100% satisfaction guaranteed. We are are always ADA compliant.
We are nonprofit and are interested in hosting our holiday party or gala, do you work with nonprofits? You bet! We love to support local charities and would love to discuss more.
Who is invited? This is an exclusive, closed to the public event for our loyal private event clients and local businesses. If you would like to attend please RSVP and get ready for a multi-sensory experience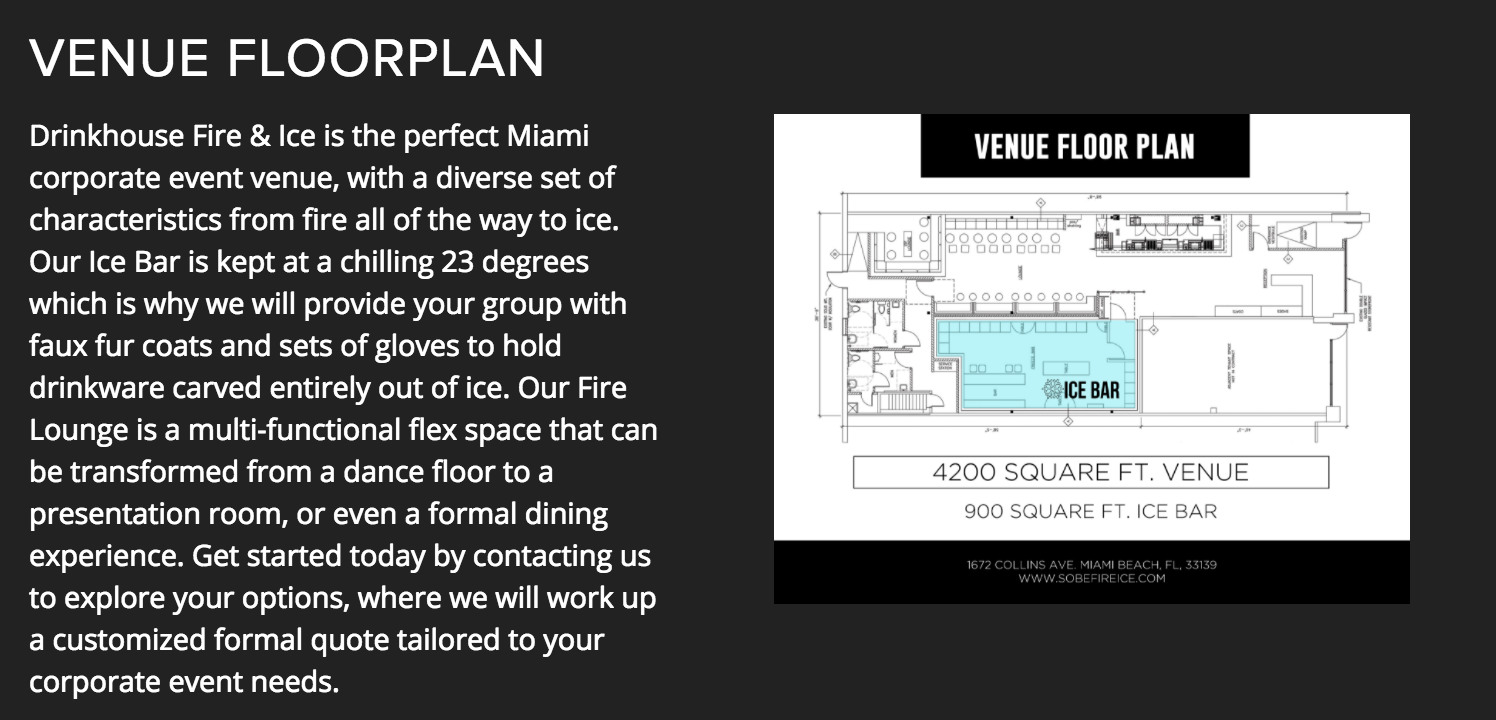 Terms & Conditions? This event is exclusive for existing Private Event Clients and those who are interested in planning a holiday party or a private/corporate event at Fire & Ice. This event is closed to the general public with limited entries available. You must register by 5pm on Tuesday July 10th. RSVP required for entry. Must be 21+ with a valid ID. Business card is required at the door for entry. Ticket has no cash value and it is not transferable.
Questions? Feel free to email us at concierge@sobefireice.com or call us at 305 534 2423.
*To ensure your privacy we do not disclose, sell or share your personal or company information.
Ideal for Corporate Holiday Parties, Private Holiday Parties, Cocktail Parties, Holiday Parties in Miami, Holiday Parties in South Florida, Private Events South Florida, Private Parties Miami, Private Events South Beach